Welcome to the Home page of CR Tech, LLC.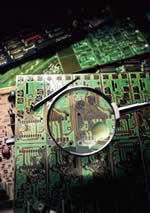 CR Tech is a manufacturer's representative and consulting firm working in the area of Electronic Manufacturing equipment. We represent the leaders in the industry and have the knowledge that can assist you in making the correct decision on your next purchase or lease.
We specialize in surface mount, hybrid, component and consultation in this area and work with clients that include:
Automotive
Contract Manufacturers
Displays
Industrial controls
Medical Electronics
Military - aerospace
Sensors
Telecom
Our coverage and representation includes part or all of the states: WI, IL, IN, MI, MN, IA and OH
The links under the Products/Services page will take you the current websites of the companies we represent and should answer most of your questions. However, please contact me with your questions, problems or opportunities in the areas of my expertise so I may help you.